With the landing of macOS 10.14.4 Beta (18E194d), Safari has versioned up from 12.0.3 to 12.1, and includes with it support for TLS 1.3!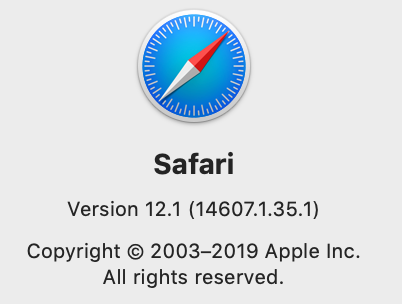 Pointing Safari 12.1 at tls13.iachieved.it (which only runs TLS 1.3) returns
Your User Agent is: Mozilla/5.0 (Macintosh; Intel Mac OS X 10_14_4) AppleWebKit/605.1.15 (KHTML, like Gecko) Version/12.1 Safari/605.1.15 with TLS_AES_256_GCM_SHA384 selected as the cipher. Note: If your current browser doesn't support TLS 1.3 it will not be able to connect with tls13.iachieved.it.
Interesting in standing up your own TLS 1.3 webserver or see what browsers and clients support TLS 1.3? Come check out our instructions on configuring NGINX to do just that.